This week we'll think about Street Art as we try our hands at Graffiti Writing!
2D Art: Painting
Spray Paint your name in Bubble Letters, 2 colors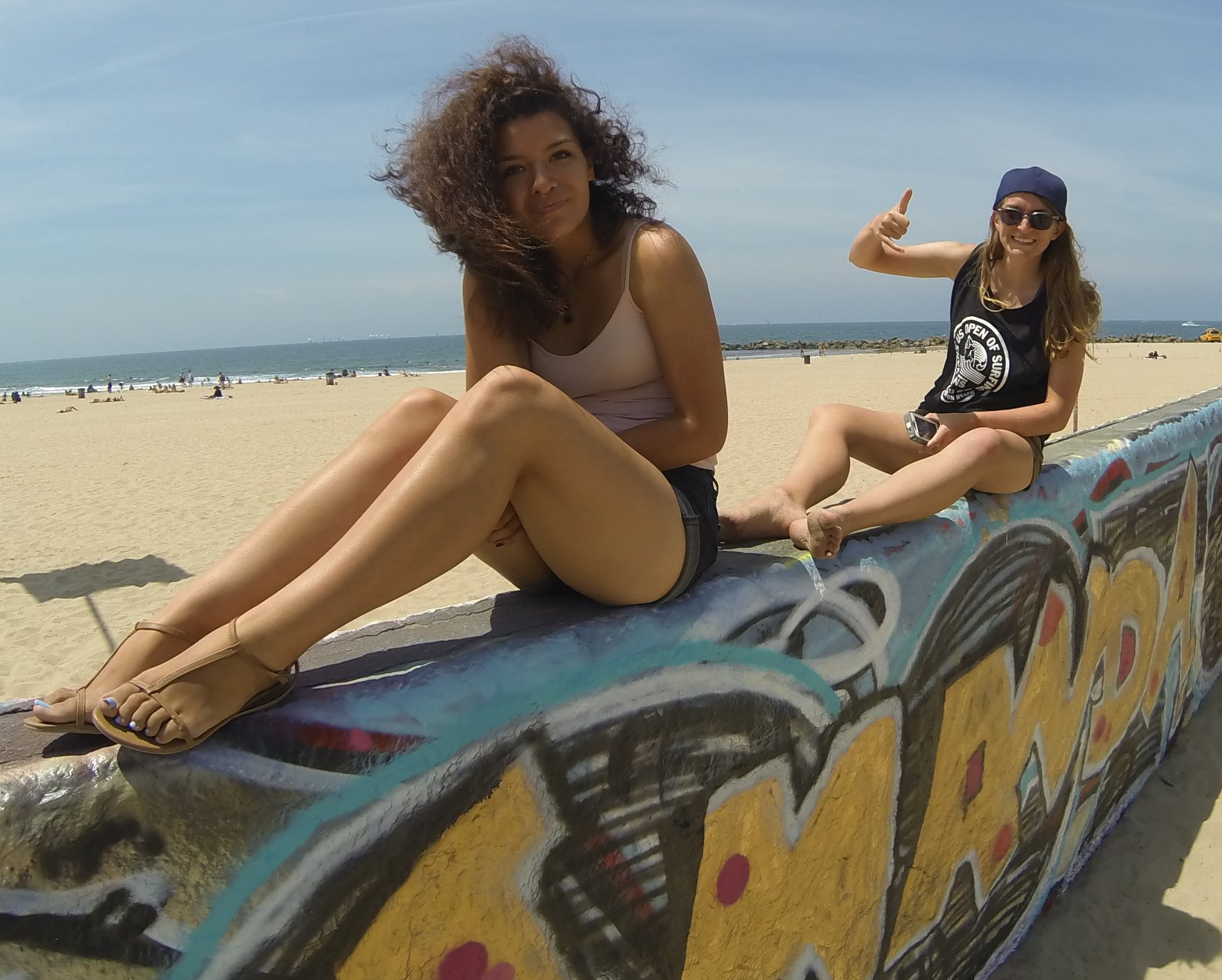 Amanda Peck & her niece sitting on top of Amanda's finished piece!
Location
You can paint anywhere that's legal! A piece of cardboard or plywood in your back yard is great. Occasionally someone's parents will let them paint their garage door or backyard wall.
Optional Location: Venice Art Walls
If you're in the LBC area this week, you might like to paint at the Venice Beach Legal Art Walls.
At the Venice Art Walls you can:
Paint your name
See other painting, from beginner classmates to some awesome murals by pros
If you haven't been to this area before, there's a lot right next to the Art Walls:
Muscle Beach (where former California Governor Arnold Schwarzenegger used to work out! :P
Basketball Courts
Skate Park
Small World Books - cool indy bookstore with lots of great Zines from Tiny Splendor Press!
And just a block or few away:
Eclectic mix from rich & famous artists (Digital Domain, Chiat Day, Frank Gehry, Claes Oldenburg, Jonathan Borofsky, Mark DiSuvero) to starving artists selling paintings on the Venice Boardwalk for $5!
Cheap Slices of Giant Pizza
LA Louvre & other great galleries
Venice Parking
Street parking is free if you're willing to walk enough blocks. Or $15 to park super-close. Earlier tends to be easier.
Venice Links
Venice Addresses
Venice Art Walls: 1800 Ocean Front Walk, Venice CA 90291
Venice Skate Park: 1800 Ocean Front Walk, Venice, CA 90291
Small World Books: 1407 Ocean Front Walk, Venice, CA 90291
LA Louvre gallery: 45 North Venice Blvd., Venice, CA 90291
When?
The Art Walls are NOT open weekdays!
The Art Walls are Open Sat & Sun from 10am to 1/2 hour before sunset.
Glenn
I'll be there on Saturday from 10a to 1p. You really don't need any help from me, but it'd be nice to say "Hi!" and hangout. I'll bring some iced tea too!
Megan Stevens
Activity
Do a Pencil Sketch of your name in Bubble Letters in advance.
Paint your name in Bubble Letters. At least 2 Colors.
You can paint anywhere that's legal. A piece of cardboard or plywood in the back yard works great.
BTW: you have more paint than you'll need to just do your name. Have fun! Paint other stuff too!
Your Blog Post
Include a few pictures and talk about your experience. Be sure your blog post includes a clear photo of YOU with YOUR WORK.
Was it easier or harder than you expected?
Did trying this activity and watching the documentary Bomb It change your attitude toward Graffiti Writing?
Do you see Graffiti Writing as Art? Vandalism? Speech? All of these? None?
Lil Mex (Jessica Harrington) with her Venice Artwall Painting Permit in 2011. You used to have to show ID and fill out a form to get a permit. It seems like lately you just show up and paint. You should still ONLY paint on Sat & Sun. And even though you'll see paint all over the trees, you should only paint on the Art WALLS. Have fun!