A "Zine" is a low quantity, personal, underground, art magazine. They can be on any topic. They're popular with artists and various sub-cultures.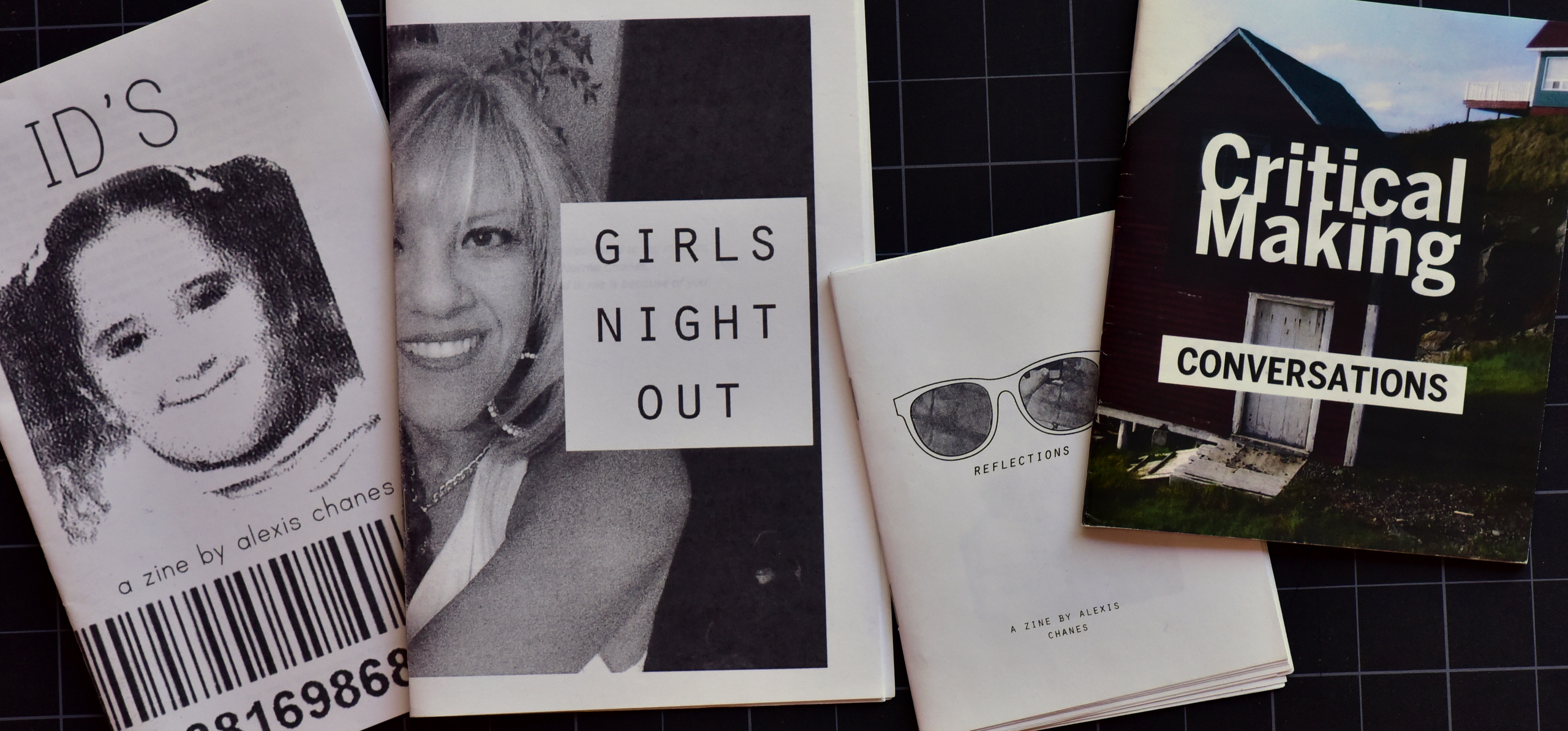 a few of the many zines CSULB SOA student Alexis Chanes sold in the Gatov Gallery last year, along with an issue of Garnet Hertz' zine Critical Making
This week we're making Zines OR Flip Books - pick whichever you want!
Some Zine & Flip Book Samples
Drawing?
For those of you who aren't so great at drawing, don't be intimidated by this Activity! Look at Comics in the newspaper or online: some of them are beautifully drawn, but many are pretty crude drawing, yet they can be powerful because of their ideas. My favorite Zine from last semester was To The Jackasses at Work by Stephanie Valdivia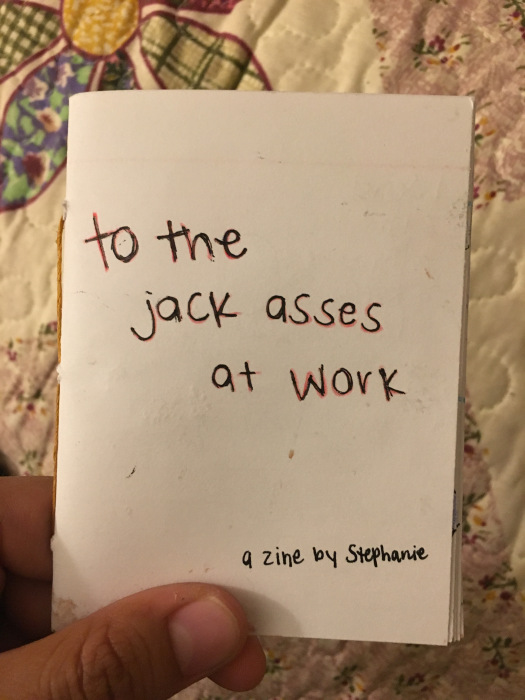 Stephanie Valdivia
Stephanie's drawing in this zine is very simple. The zine is great not because the drawing is great, but because Stephanie's ideas are great. As the title suggests, she's a little angry at some of the peeps at work, and in this zine she vents some of that frustration in a very relatable and funny way.
Write, Draw, Photo, Print
You can use any media you like.
Words
Hand Drawings
Photography
Anything on your computer
Etc
Binding Your Zine or Flip Book
If you're going to hand draw, you might like to bind first and then draw. If you're going to use a Photocopier, or do stuff on your computer and Ink Jet Print it, then you might want to make the pages first and then bind. Either way works.
Materials
A great material for a Flip Book is some of your extra 4x6 Index Cards. You can bind them as is, or cut them down to any smaller size you like.
A great material for a Zine is just 8-1/2 x 11" sheets of paper. Nice paper is nice. Plain white paper works too. You can fold them in 1/2 to make a 5-1/2 x 8-1/2" zine, or you can cut them in 1/2 and then fold those in 1/2 to make a 4-1/4 x 5-1/2" zine.
Sewing a Pamphlet
I should make... or we should find... a video on how to do this. It's easy to do and really makes your zine a lot nicer!
Your Blog Post
As always:
Do the Activity
Take Pix
Blog it
Describe your experience, insights, things you'd like to try next time, etc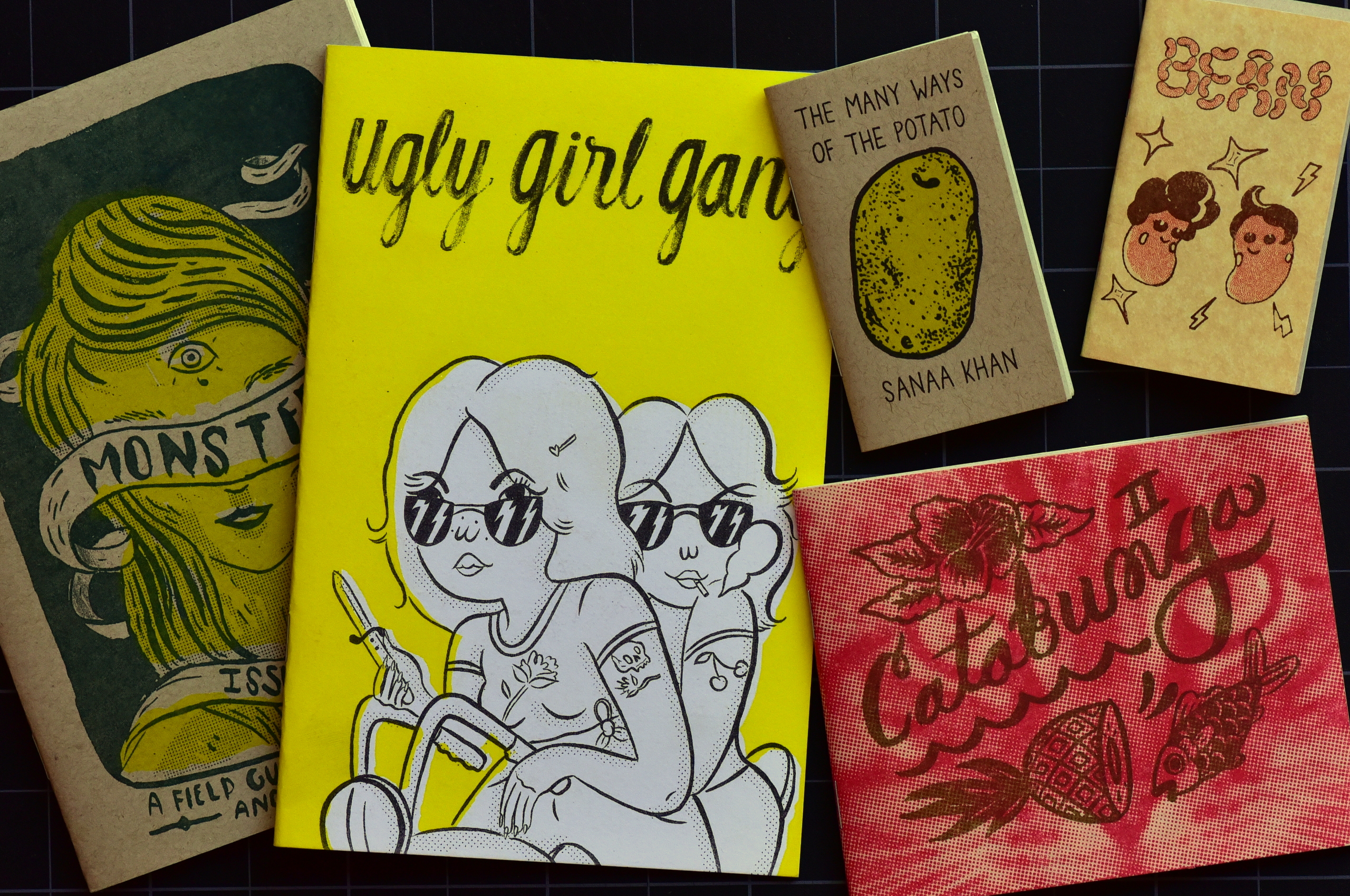 some zines from Tiny Splendor Press that I bought at Small World Books