Instagram Activity
Our IG Activity has 2 parts:
Instagram Day
Blog Post
On Instagram Day (Thursday) we all take Instagrams with our phones and hashtag them. Selfies, Foodstagrams, Dogstagrams, anything you like. Whatever you happen to be doing during the day. Sitting in class. Surfing at the beach. All good.
Then after Instagram Day, just like all other Activities, you write a Blog Post analyzing the "self portrait" the group of us created with our IG hashtag.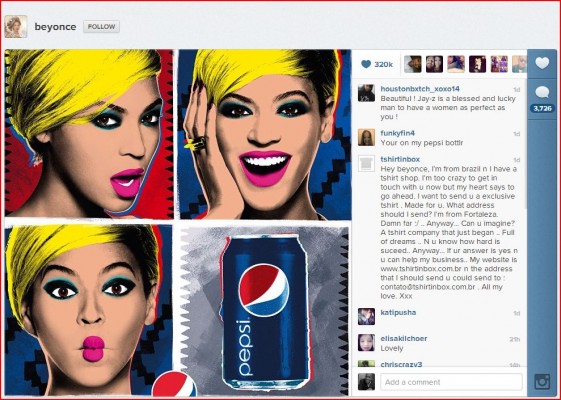 Social Photography
For generations photography has been a fine art medium. Artists employ a high degree of craft to express powerful visions. But we also swim in an ocean of Social or Relational photography. There are some excellent photographers on Instagram. But for most peeps, IG isn't about trying to be Edward Weston or Diane Arbus, it's a tool with a different goal: to connect and interact with friends and family.
In our Instagram project, we the class of Art110 will try to use IG to take a sort of giant group selfie.
Art110 Instagram Day:
Thursday, June 23
• If you don't already have an account, just download the IG App for your iOS or Android phone or tablet.
• On Thursday we'll all use Instagram to take pix of wherever we are across the hours of the day. 12:01am to 11:59pm.
• Please use the hash tag #art110su16
• You can snap all the pix you like, but please snap at least 4 through the day.
New Account?
New User?
If you've never used Instagram, it's painless! Don't be afraid. Just download the free app. Have fun!
Serious User?
On the other hand, I know some of you have serious no more than 1 IG / Day rules. If you don't want to pollute your real IG with Art110, you can make a new IG account for the day.
Plain Old User?
Or, for most of you, just use your regular IG account. Easy!
How 2 Use Instagram
Most of you already are, or have been, IG users. If you've never used it, it's a mobile app. Just go to the Android or iOS store and download the free Instagram app. Signup. Take a picture. Play with the app. Post your pix. You can play with filters on your image if you want to. Or not. You can find other IG users to follow if you want to. Or not.
If you want to list your IG username in the comments below, we can optionally follow each other. But also as soon as IG Day starts you'll be able to find each other by clicking on the hashtag. Then you can follow peeps if you want to, or just see what everybody's up to by viewing the hashtag.
Your Blog Post
After our 24 hours of IG posting, please view our hashtag to view our "Group Portrait." On your blog you can paste a couple of pix. Your own or anyone else's you find interesting. In your write-up please try to talk about what you see. Do you see connections between your own activities and other classmates? Surprises? Does it feel like a community of some sort? Or totally disconnected lives?
Don't Make a Mistake:
While you
should
post 4 or more images to Instagram on
Art110 Instagram Day,
that
IS NOT
sufficient to earn your Activity Points. Please be sure to also
Analyze
(blog) what you see in our "Giant Group Selfie" on your website.
(Playful) Thinking About This Space
Natalie Tran on Instagram
Scotch Mornington on Selfies
Miranda July on Social Apps